History and Biography of Mahraz Darshan Das JI
The birth of Mahraz Darshan Das Ji
It has been said that the birth of our Spiritual Master Mahraz Darshan Das Ji was prophesied in "Bhai Bala's Janamsakhi" which states that the light (Jyot) of Guru Nanak Dev Ji will reappear in the town of Batala, Punjab (India), and will be born into a "Jatt-Brahmin" family.
Mahraz Darshan Das Ji  was born in Batala into a Jatt-Brahmin family of Pandit Jagan Nath and Mata Chanan Dei on 7th December 1953. Just before his birth, Mahraz Ji's father was visiting Agra on a business trip, when a Sadhu (Holy man) sitting under a tree called out to him. He read his palm and told him that he should be at home as a very special soul was soon to be born into his house. Pandit Jagan Nath went back home and told Mata Chanan Dei of this incident and she replied that there had been a similar message delivered to her in a dream while he was away.
Soon after Maharaz Darshan Das Ji's birth, his family started to notice some unusual occurrences around him. One such occurrence happened at the time of his birth,  a snake dropped onto his bed from the ceiling above and immediately vanished. That brought his parents attention to very distinguishable 7 locks in his hair, which resembled the 7 headed 'Sesh Naag' (the great snake) that holds all planets and universe together according to Hindu mythology. This was considered a great omen and a blessing.
At birth, Mahraz Ji was named Darshan Lal Vasudev by his parents and he was one of three siblings, with one elder sister called Darshana and another younger to him called Satyam.    
Recognition by Holy men
Many saints and holy men who heard about the unusual locks in Mahraz Ji's hair would come and visit him in the family home. Yogis, Peers and Faqirs (Holy men) on their way to Pilgrimages to Akand Sahib temple (the place where Sri Guru Nanak Dev Ji was married), would also stop and see the young Mahraz Ji sitting outside the doorway of his house. They would bow and pay their respects to him, before continuing on their journey. What they saw in the young Mahraz Darshan Das Ji was not always communicated to his parents, but it was clear that he was someone special for these holy men.
Even during his childhood there were clear signs that Mahraz Darshan Das Ji wasn't an ordinary child. He would often sit and meditate in a small abandoned hut in a field near his home and when asked by other children about what he was doing, Mahraz Ji would reply saying that he was remembering his God. Not understanding what he was talking about, they would ask him to play with them. He also visited a nearby eye hospital. There, Mahraz Ji started to connect with people and would comfort patients and their families with his polite words and anything he said to them would  come true.
First encounter with the Divine
When Mahraz Ji was 13 years old, whilst he was out in the fields packing a big bundle of straw bale for the buffalo's which were kept back at home, he started hearing the sound of Kirtan (Sikh Hymn). When he turned around nobody was there, and the hymn stopped playing. This continued a few times. As he was struggling to lift the bale, a man's figure appeared out of nowhere. This figure was wearing a white robe, had a long white beard and asked him if he needed any help. Mahraz Ji did not initially reply. However, Mahraz Ji slipped and hurt one side of his abdomen and the man helped him to lift the bale. The man asked him to pay attention to the work he was born to do and told him that this weight which he was struggling to lift was nothing compared to 'the weight of the world' he was destined to lift upon his shoulders. Mahraz Ji didn't think much of it, but this was his first encounter with the divine.
The light radiating from Mahraz Ji
During his teenage years, at night when walking down the street people around would notice a light radiating from Mahraz Ji, almost as if he was carrying a lamp with him. If someone was sick in their home, he would just enter the doorway and the sick person would immediately feel better. At the time Mahraz Ji did not know why this was happening but others were starting to notice his presence as being special.
Enlightenment of Mahraz Ji
At the age of 17, Mahraz Ji moved in with his aunt in Jalandhar for work. He stayed in Jalandhar for a while, working as an office clerk in the finance department of an Engineering plant. On 9th of July 1971 on his way to work, he had his second encounter with the same divine who said to him that his true vocation was the 'service of mankind'. He told Mahraz Ji that whatever he said would become true. Mahraz Ji replied saying that this should only become true if it was in the benefit of the person and not otherwise. Mahraz Ji turned back home and went to lay on his aunt's balcony, however this time the experience was of such intensity that he became unconscious. He remained in this state for three days, causing his family to worry about his health. Everyone around him thought that he was possessed by a spirit or something out of the ordinary and several so-called experts were called in, yet no one was able to do anything. Eventually, an old Priest from a Mandir (Hindu temple) came and looked at him. He told his family that there was nothing wrong with him and that he had been touched by a divine grace. The priest expressed the blinding bright light which he could see appearing behind him. Following this the priest told Mahraz Ji's family to just let him be and that Mahraz Ji would himself tell them all about it when he came out of this state.
A message from the Divine
When Mahraz Ji came out of his state of unconsciousness, he spent the next forty days only taking liquids and no food. After this he heard a voice that told him to get up and do the work he was destined to do. He became completely spiritually awakened and started to help people and to deliver sermons. His divine sight was such that he would see a person and before they spoke, he would tell them of their suffering, health problems and what brought them to him. In addition to this he would instruct them on what to do to find relief, or personally bless and heal them. This was the start of Mahraz Ji's spiritual mission.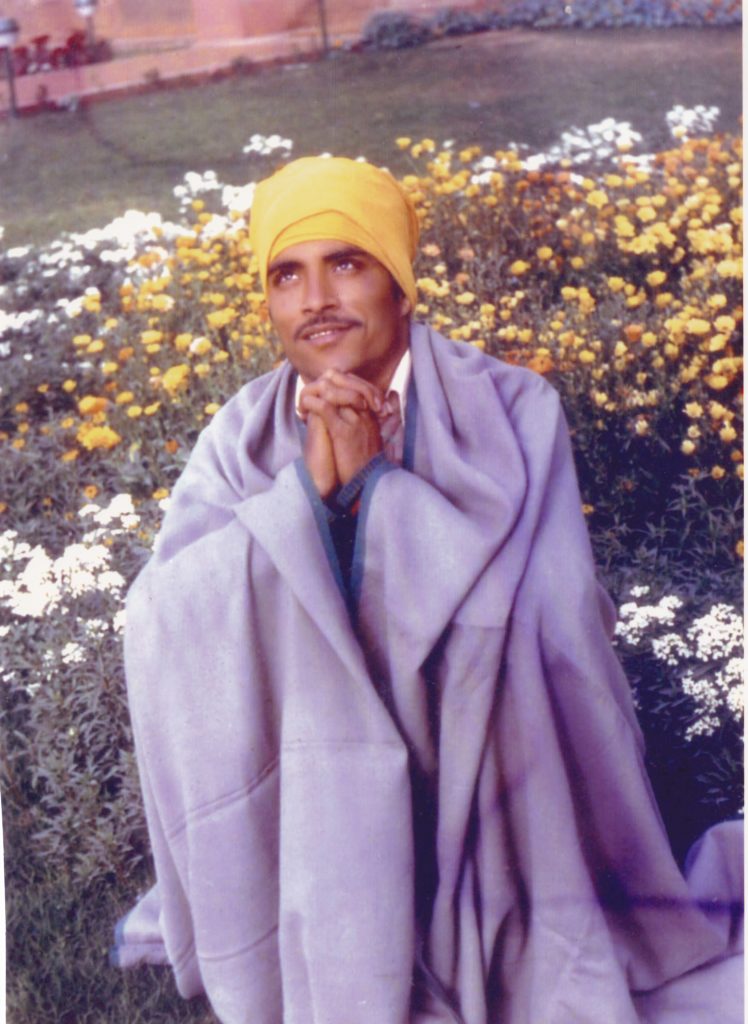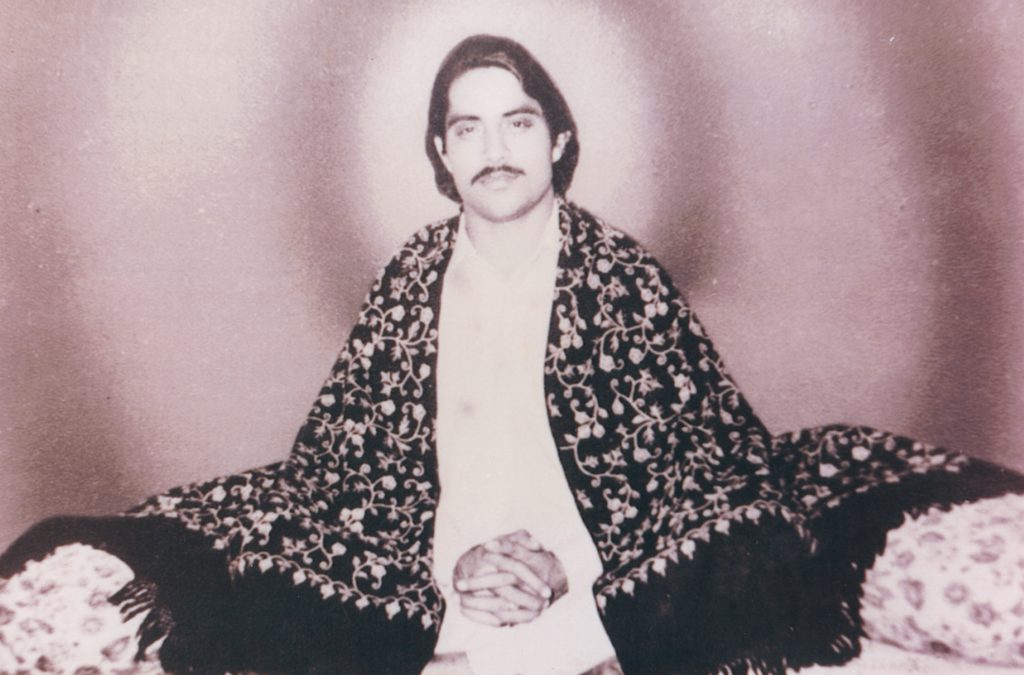 The beginning of Mahraz Ji's spiritual Teachings
On 15th August 1971 Mahraz Ji delivered his first sermon and also at that time he changed his name from Darshan Lal Vasdev to 'Darshan Das', where Das means servant to humanity. This auspicious day became known as, 'The Day of Enlightenment' (JYOTI DIWAS) among the followers. People who encountered him were surprised at the depth of his knowledge, considering he was still only seventeen years old. In 1973 the organisation was officially established as Sachkhand Nanak Dham (Sach meaning True and Khand meaning region or realm so The true realm of the Supreme Creator or True house of God).In the beginning he carried out his work from his family home, but over time the number of followers grew so much that his home couldn't accommodate all of them. So, with the advice of his father Pt. Jagan Nath, Mahraz Ji bought the same piece of land where he had his first encounter with divinity and established his first spiritual centre 'Batala Dera', which is still one of the most sacred places to Das Dharam. From all over India, people started coming to see him, having heard of his unique healing powers and wanting to hear his spiritual sermon.
The growth of Mahraz Ji's following around India
After the establishment of Batala Dera, Mahraz Ji used to travel miles on foot, healing and preaching around the villages of the Punjab. Later he started traveling on his motor bike often with his Mother and became known as "Motorcycle Wala Baba" (Motorcycle Priest). Mahraz Ji would often have no proper place to sit and do his Satsang (Sermon) in the villages and so would create a temporary wooden platform on which to sit and deliver a Sermon. Other times he would speak in people's houses, despite them being very small and not having much room for the Sangat (Congregation) to sit. His fame as a spiritual teacher and a divine healer grew through word of mouth and reached beyond the borders of Punjab.
There were instances where Mahraz Ji would use his special gifts to perform miracles. One such example was when Mahraz Ji was approximately 19 years old, a buffalo in Batala had fallen into the local well full of snakes, with no one able to get it out. Mahraz Ji came to know of this incident from the villagers and with his blessings the well very quickly became full of water, thus enabling the buffalo to come out. The buffalo was spotted shortly afterwards unhurt and happily grazing in the nearby fields. The local villagers were shocked at how this buffalo's life had been saved.
Establishing Loni Dera (2nd Spiritual Centre)
One of Mahraz Ji's followers, Mr Sethi, whom Mahraz Ji later ordained as a priest, mentioned a piece of land on the outskirts of Delhi, which was completely barren, derelict and infested with snakes and other pests. No one wanted the land, or if they did, they wouldn't stick around for long. When Mahraz Ji visited this land, he said this would be our land and they should acquire it. Someone said to Mahraz Ji, that the place was a complete jungle and who would come there. Mahraz Ji replied back saying there would one day be Mela's (Funfair's) taking place here. Acknowledging this, the land was acquired on 30th January 1977 and here he established the second spiritual centre 'Loni Dera'. Mahraz Ji would personally become heavily involved in the work at both Loni and Batala Dera; he would use a large metal bowl on his head to carry sand/rubble. With this same bowl he would cook Langar (food served to the congregation); he would flip this bowl upside down in order to make Roti's (Chapatti's) on it.
There was never a time when Mahraz Ji would just sit and watch the work going on, instead always leading by example with selfless 'Seva' (Voluntary work), he would help the Sangat out with the cleaning and the establishment of the new centres for the Mission.  Many people from the area started coming to help in this work. His love was not just limited to the followers and he even had a special way with animals. There was one particular dog who always attended the Loni Dera Satsung's and he would tell the Sangat to look after the dog and allow him into the Dera. The congregation would look after him, giving food and water to the dog. Shortly before departing for England, he told the dog that he was leaving India and it was best that he leaves his body too. Within a week of this the dog passed away.
16th February 1980 was the day when a total solar eclipse occurred (https://en.wikipedia.org/wiki/Solar_eclipse_of_February_16,_1980), and according to Indian tradition people believed in all sorts of negative effects of an eclipse, everything from bad omens to blindness. People would not come out of their homes during a solar eclipse. However, Mahraz Ji gathered all his followers in the sweltering heat on that afternoon, during the middle of the eclipse out in the open, he gave his blessing that no harm would come to anyone who was present. This is how Mahraz Ji announced the founding of a new faith 'Das Dharam' (Service to Humanity). From there on Mahraz Ji laid down the rules and practices of Das Dharam. Whilst in Loni Dera Mahraz Ji was known as 'Baba Ji'. In February 1981, the congregation started calling him 'Mahraz Ji' and this title remained during his lifetime. The significance of the title 'Mahraz', (a great mystery/secret) when translated from the original Punjabi to English, soon became clear. The alternative title 'Maharaj' is often used but is slightly different in meaning, as it is a Hindi word which translates as 'Great ruler' or 'King'.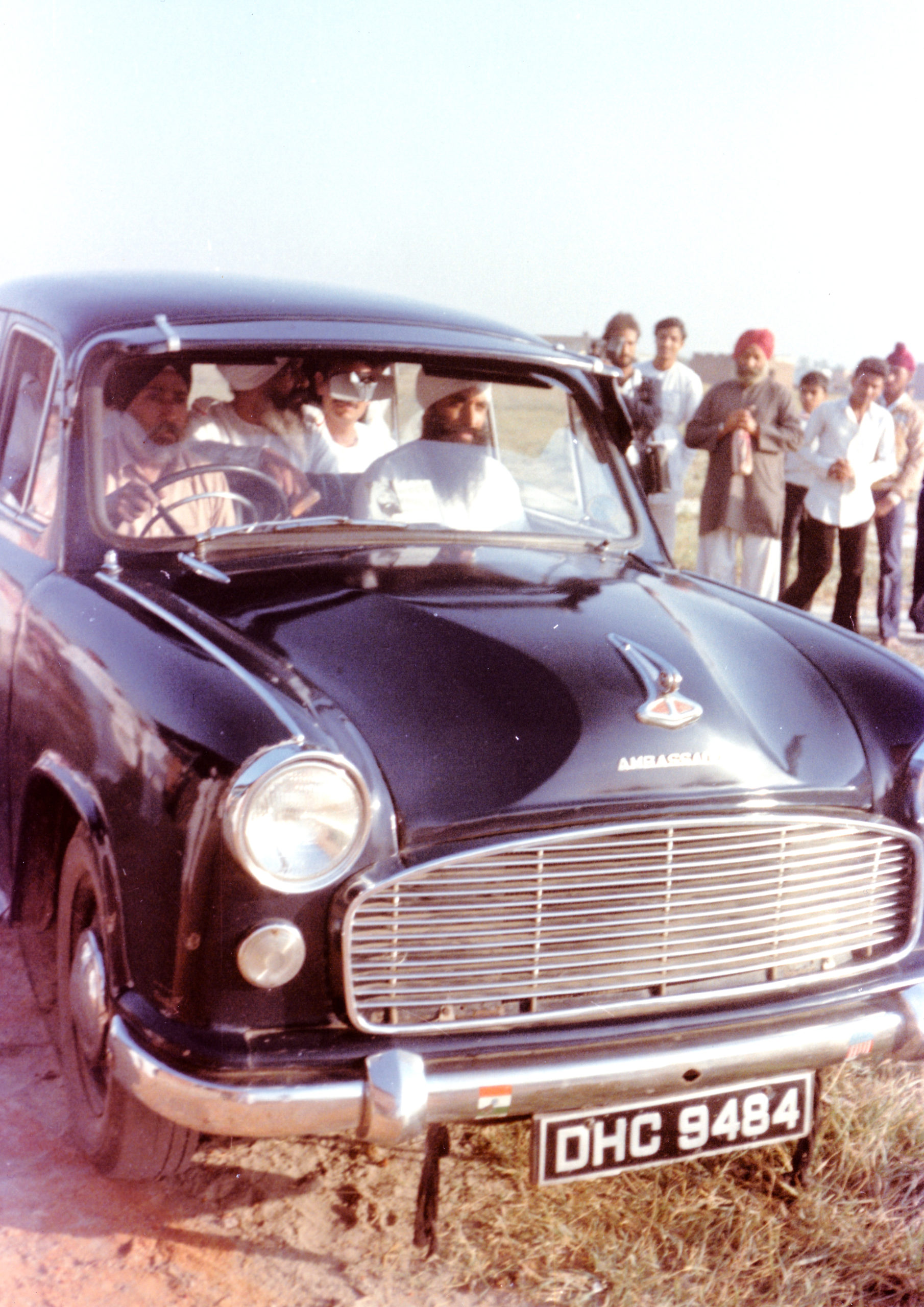 The spread of Mahraz Ji's following overseas
Mahraz Ji made his first visit to the United Kingdom on 23rd December 1979, one year before he founded Das Dharam. In 1982 he established the first permanent centre in England in Handsworth, Birmingham. Despite being based in Birmingham, Mahraz Ji would travel between various cities from London all the way to Glasgow in Scotland, holding Satsang's and meeting people in Churches, school halls and Community centres. Often, he would also travel to the homes of his followers to bless them and their families personally. In one year, he travelled just over 100,000 miles by car.
Mahraz Ji prophesied that one day Das Dharam would become an internationally established faith. At present outside of India, Das Dharam's followers are based in countries such as the UK, USA, Canada and all over Europe and Africa (especially in Kenya).
Giving the followers a slogan
At the foundation of 'Das Dharam', Mahraz Darshan Das Ji established,"Nanak Naam Chardi Kala, Tere Bhane Sarbat Da Bhala" as the principal slogan for Das Dharam, meaning, 'Do something good for someone in the name of the supreme'. This slogan is also used at the end of Ardas (Sikh prayer). Mahraz Ji revered and highly respected the Sri Guru Granth Sahib Ji and would read from the holy book when giving Satsang's. In UK he had a cover of pure gold made for the holy book. He requested his direct family and members of the congregation to support him in this endeavour by giving what they could towards this noble cause. He stated that one day this would be handed over to The Golden Temple in Amritsar when the time was right to do so. He stopped reading from the Sri Guru Granth Sahib Ji after some protestations from outside groups who had objections with him reading from it in his Satsangs. The book has been placed in safe keeping even after the death of the Holy Master.
The assassination of Mahraz Darshan Das Ji
When a Prophet or a Guru begins his or her version of Faith, there is always opposition, Mahraz Ji was no exception. He was a man of peace and during the turbulent year of 1984, Mahraz Ji spoke against the injustices and intolerances that afflicted the Punjab. Some religious factions saw Mahraz Ji's teachings as a corruption of their own faith and as a result of this as he had prophesied on many occasions, he was assassinated by two fundamentalists on 11th November 1987 in a school hall in Southall (London) UK. Three other members of the congregation were also shot on the same occasion, two of them died later. Those who understood his message continued to do the work that he had started, remembering what he had said; 'Do not love my physical body but the power behind it. Life is an unreal image, an allotted time span for a short period. Death is reality'. Mahraz Ji was a person who could tell you about the past, present and the future. Moments before the assassination someone in the congregation asked him "what is death?" and he replied saying "wait two minutes and you will see it with your own eyes".
A legacy of service for humanity
Mahraz Ji could not bear to see injustices, especially people going hungry without basic provisions. In October 1987 he set up the Abbeyfield Sachkhand Nanak Dham Society, becoming the chairman, as part of the Abbeyfield society which helped house elderly people. He was invited to attend the opening of the 1000th Abbeyfield house with HRH Prince Charles on 16th October 1987. This was just one of the many charitable activities that Mahraz Ji started. To this end he has left a legacy of Love & service which includes hospitals, community centres, eye camps and places for the homeless. Whether in times of unrest, emergency or other community needs, the focus on serving has been the priority. This is not only for our Spiritual life but also in our private lives.  
The legacy of Mahraz Ji, and the tremendous amount of work that he did for humanity during a short period of time, lives on after his physical presence has left us at the age of 33 years. As he promised his light will live on for many generations to come, for those who understood and continue to understand his message for the ages.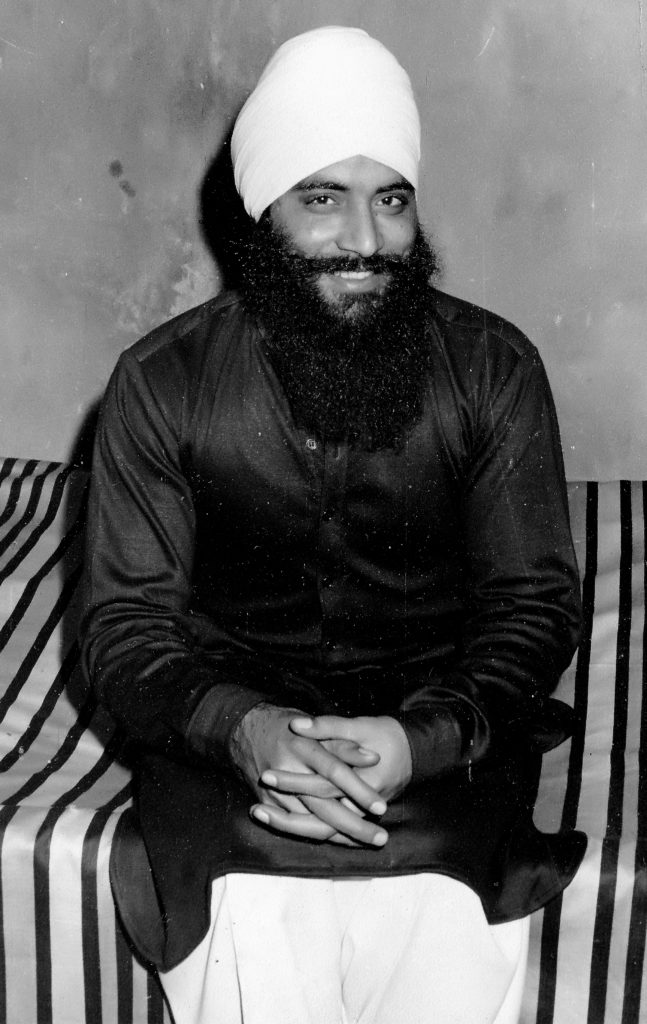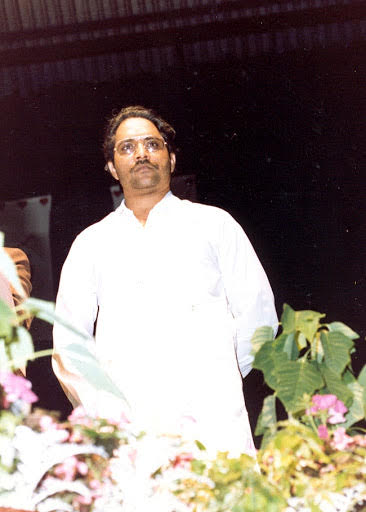 On 31st October 1984 the prime minister of India, Indira Gandhi was assassinated by her Sikh bodyguards. The aftermath which led to anti-Sikh riots erupting the following day. They continued in some areas for several days, killing more than 3,000 Sikhs in New Delhi and an estimated 8,000 – 17,000 more were killed in 40 cities across India.  Sikhs were targets of violence and killing by organised gangs. Gurdwara's and Sikh houses and businesses were also targeted and amongst the places of worship targeted was the Dera Sahib in Loni. A very large mob entered the Dera Sahib premises and they started attacking and killing at random. They killed 12 members of the congregation present but when the main building in which the remaining congregation was about to be attacked , Mahraz Darshan Das Ji opened his 'Dastar' (Turban) shook open his hair and said in Punjabi "that's enough Nanak". The mob instantly came calm and ceased their attack and retreated without attacking anyone else. He was later taken to his sister's house. Following this incident, members of the sangat involuntary cut Mahraz Darshan Das Ji's hair.  He then came to England on 10th November 1984.  
During the height of this violent time, Mahraz Ji on 11th November 1984, organised a national peace event at the NEC in Birmingham despite being advised that protection might not be possible. This was in collaboration with all other religious groups and Asian organisations in England. The High Commissioner's representative of India also attended to show their support for the cause. At the event he spoke out against the Anti-Sikh violence in India. His words were well received.